2017 Home Building Trends
---
Four of us from Kimberley Development were lucky enough to attend this years NAHB International Build Show and the Kitchen and Bath International Show in Orlando. It was an amazing opportunity with tons of educational sessions, a huge expo floor filled with the industries best products and companies, and the opportunity to hear Peyton Manning give advice on team leadership and growth. Now that we're back and caught up on work, we're excited to put much of what we learned into action. More of that in a separate blog though.
---
Matte Appliance
The new look for the kitchen is a matte look which makes the appliances more subdued with the focus going more towards the cabinets and hardware. 
Marble Look
Marble is still a popular option in 2017, so don't let the price or nature of the product be the deciding factor on why you shouldn't have this look in your home. Qaurtz is a popular choice for those wanting a marble look as it can have similar veining. The best part is that it can be a more economical option, and you won't have to worry about any staining or chipping! We use LG and Caesterstone quartz in our homes and love both! Quartzite is another alternative to marble if you want a natural product but don't want to spend the extra money. An alternative option to a marble floor tile is porcelain and ceramic. Use this in combination with a real marble mosaic to add visual interest and to keep your overall cost down. See how we used quartzite, real marble mosaic, and a faux marble floor tile to create a luxurious while staying in budget.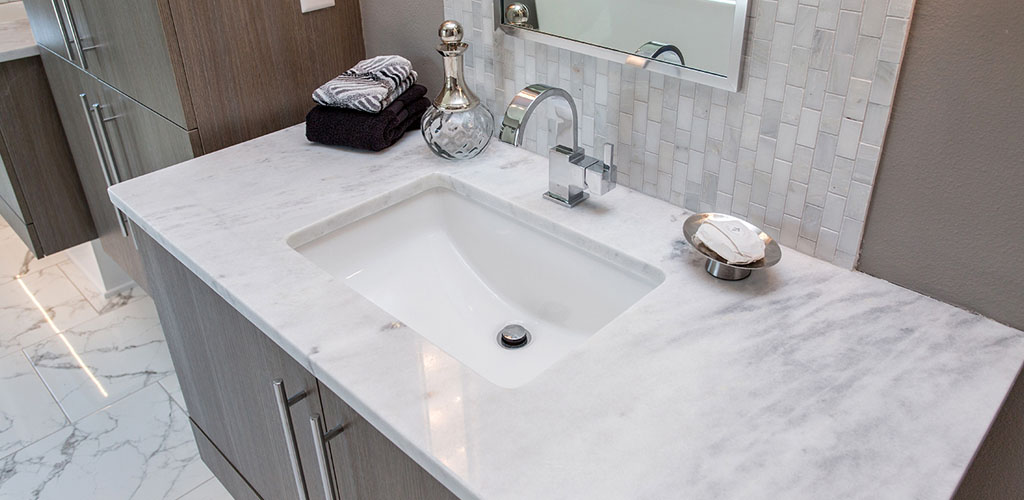 Cerused Wood
A cerused finish is a heavily textured wood treatment that brings out the unique grain of the wood. You'll see this look applied to wood floors, cabinets, and furniture. 
Subway Tile
his budget friendly trend certainly isn't new. The versatile tile choice works so well in a variety of different styles that we think it's one that will last a long time. Have fun with subway tile by adding an unexpected element such as a darker or lighter grout to contrast.
White with Off-White
There's something so refreshing about a white room, but when done in one stark tone in can feel a bit sterile. Instead, opt for a white palette with creamy off-whites and natural linen hues that will create a richer look and feel.
Jewel Tones
Bold shades in jewel tones like amethyst and emerald are popping up everywhere! Add pops of these saturated colors Green especially is making a big hit this year with Pantone's color of the year being Greenery, a yellow-green shade that takes its cue from the environment. Not sure how to incorporate this into your current home? Try adding green plants around your house as an economical and easy way to liven up your space.
Overdyed Rugs
Continuing with the jewel tone trend are overly saturated rugs. These bright rugs are practically pieces of art for your floor and don't have to cost a lot. Check Target or At Home for reasonably priced overdyed rugs.
White and Wood Kitchens
To keep the all-white kitchen look from becoming too cold, designers are introducing wood accents to break up the look visually and provide much-needed warmth. Butcher block counters and wood beams are a couple ways to add some warmth. Check out how we incorporated wood into the bar area in our 
Tuxedo Cabinets
You can dress your home in style with this trend. This design incorporates the use of white upper cabinets and black or another dark color on the lower cabinets. See how we incorporated this look into one of our Berkley spec that's for sale. 
Stylish Cabinet Hardware
A once minor detail on your cabinets is now a major focus for homeowners. Knobs and pulls can change the entire style of your cabinetry and house. Warm tones such as champagne gold are especially hot for 2017. Choose hardware with clean lines and shapes to make your cabinets have an instant facelift.