Farmhouse Baking: Heart Shaped Cherry Hand Pies
---
The modern farmhouse style home has been a popular look for the last couple years, especially in the heart of the home – the kitchen. Our take on a modern farmhouse, located in Waukee's Painted Woods West, is finally complete and ready for people to see! (Professional photos of the entire house will be up on our website in a couple weeks).
Key features of our modern farmhouse kitchen:
counter to ceiling Waypoint cabinets with glass fronts on the top cabinets
upgraded LG quartz counters
apron-front single bowl sink
white subway tile
Hallmark engineered wood floors
bronze cabinet hardware and fixtures
GE's Café Series appliances.
reclaimed wood beam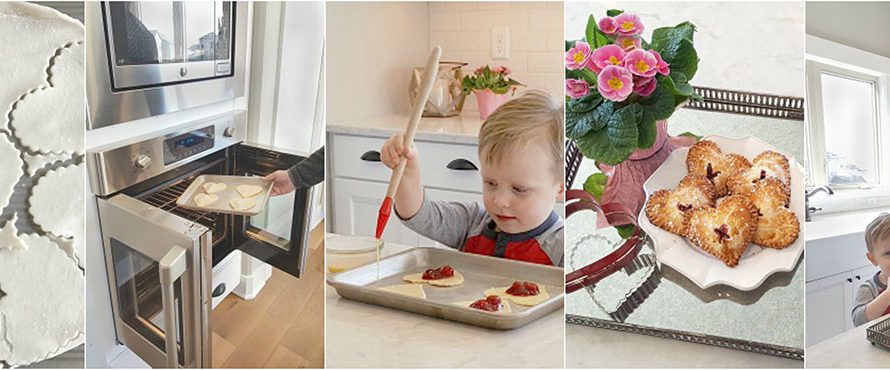 YIELD: Approx. 14
Ingredients:
1 box refrigerated pie crust
1 cup cherry pie filling
1 teaspoon lemon zest
1 large egg, beaten
Coarse sugar or powdered sugar (to decorate)
Directions:
Preheat oven to 400 degrees F. Spray baking sheet or line with parchment paper.
In a small bowl stir the cherry filling and lemon zest together.
Unroll the pie crusts and use a 3-5-inch heart-shaped cookie cutter and cut about 24-28 hearts from the two pie crusts. Transfer the hearts to a baking sheet.
Beat an egg in a bowl, then lightly brush over half of the hearts. Place 1 heaping teaspoon to 1 tablespoon (depending on size of hearts) of filling in the center of each egg-washed heart.
Place the remaining hearts on top of the filling-topped hearts. Gently press the edges together, then with the tines of a fork press around the edges of the hearts to seal. Cut an "x" in the middle of the heart to create a vent. Brush the tops of each complete heart with egg. If you choose to use coarse sugar on top, sprinkle that on.
Place the hearts 1 inch apart on the prepared baking sheet. Bake for 12 minutes or until golden brown, rotating the baking sheet half way through. Remove from the oven and cool 10 minutes before transferring to a wire rack to cool completely. If you choose to use powdered sugar on top, use a sifter to lightly sprinkle it on.